Professional Headshots Denver – Sara – Personal Branding
I have driven past the Tenth Circuit Court of Appeals a hundred times, and have always wanted to do a photoshoot there. Sara contacted me to do her professional headshots in Denver, and wanted something more conservative.  I described the building to her with its massive white columns and old architecture.  Near the building's entrance, the columns come off of the wall to create a beautiful tunnel.  The sun filters in and reflects off of the white stone inside to cast the most beautiful light on the model.  The all-white background makes it so that the model is the absolute central figure and your eyes immediately go to her.
Through obtaining a permit, we found that there will be construction surrounding this building for months. After all this time, the perfect location for the perfect person was falling through.  I made a special trip to the building to see if we could make it work.  I started walking around the building to see that it was completely surrounded by fencing on all sides.  As I walked up to the entrance, I found that the best section of the building is the only section that is accessible.  The photoshoot was still on!
Sara chose to wear a beautiful high waisted skirt with a crisp blue oxford and pearls. Her style is ladylike and purposeful so this outfit was fantastic.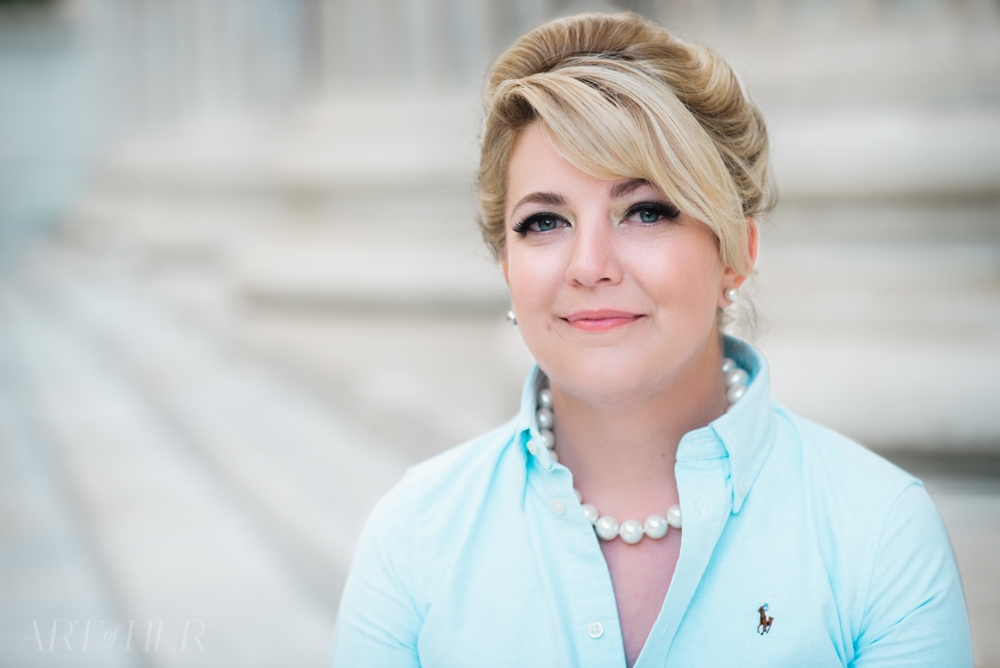 Sara showed up to the photo session right after work, but she looked completely put together.  She has an incredible sense of humor and we were both laughing the whole time we were taking photos.   She is so beautiful, and in her photos you can see both her strength and playfulness.
These professional headshots are a perfect example of personal branding.  As a business professional your images and headshots are used over and over again. Often times your first mode of contact with a person is online where your headshot is the first thing they see.  I suggest taking the time to schedule a photoshoot to make a great impression with other business professionals and clients.  Too often I see selfies and outdated images used front and center as a first impression.  Use your images to communicate trust, and professionalism through your personal brand.
At Art of Her we take special care with professional headshots to make sure that it reflects your personal brand.  We start with a questionnaire to hone in on what you want to communicate to the people you work with and to your audience.  For Sara, this was a classic and conservative look that still showed her powerful but kind personality.  Taking the time to fit your brand to your photoshoot is what makes a great headshot.  I am in love with these images, and know that Sara's personal brand is now stronger because of them.
If you are searching for headshot photography, please contact Jess for our pricing and process.