Five tips to help you turn your portraits into powerful marketing tools.
One of the first things that every client asks me is "What should I wear to a brand photoshoot?" I've answered this question so many times that I thought I would put it out there for anyone planning a personal branding photoshoot for their own digital marketing. Here are the top five tips I give as a general rule that will help make every one of your photos a powerful tool for your marketing.
1. Wear multiple outfits.
Unless you are booking shoots every month, you want to be able to use this photoshoot many months to come. Try to imagine following a business that has shown up and marketed strategically on a regular basis, but they are always wearing the same outfit! Even if they post great content, it will get old, and may actually be a distraction from what they are selling. It is wise to make the most of your time with your photographer and wear multiple outfits. This gives you more marketing mileage, and helps your content to look fresh.
2. Aim for a range of styles.
This one piggybacks off of bringing multiple outfits. After asking my clients to bring at least three to four looks, I recommend that they choose a range of styles. Think casual all the way to something you would wear to speak on stage. Casual can be a plain white t-shirt and jeans, or something a little nicer. Speaking gig outfits are generally blazers, blouses, or professional dresses. I love to wear pencil skirts in my own images, but it depends on what you are into and what makes you feel good about yourself, which leads me into the next one.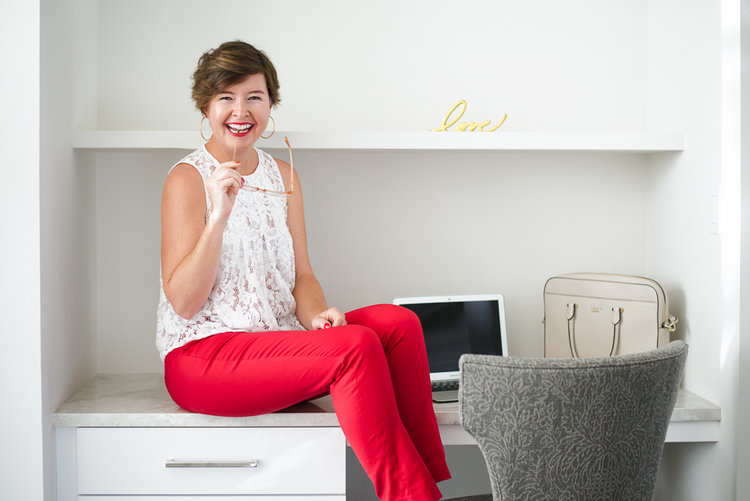 3. Stick with solid colors.
This is a tip that all professional personal branding photographers will tell you. Unless your brand is fashion oriented, it makes the most sense to stick to solid colors. You can still layer different colors, but avoid heavy patterns, prints, logos and wording on your clothing. This is because the entire point of these pictures is to connect with your ideal audience. If people see your picture and are more interested in your clothes, than your face, your images are failing you. Solid colors help to keep a viewers eyes from getting distracted or pulling their eyes to your clothes. Either on your smile, and your eyes, or on a product you are holding. Solid colors are an easy way to give your images more strength.
4. Wear the clothes that make you feel confident.
Getting in front of the camera can be tough! Give yourself a leg up by wearing clothes that make you feel like your best self. If you have a pair of heels that makes you feel like a million bucks, bring them, wear them. If you have an outfit that makes you feel off, or uncomfortable, Don't wear it! Your images will be better when you feel better.
5. Keep the details super simple!
When it comes to the details like jewelry, shoes, makeup and even fingernails, keep it simple. This is an opportunity to make sure that people are connecting with your eyes, your expression, or your product. Wear understated jewelry, solid or neutral shoes, natural toned makeup, and stick with skin tones for your fingernails. These all seem like small details, but they add up, they are important. That said, each photoshoot is different. A nail salon, fashionista, and makeup artist will want to use these to highlight what they do.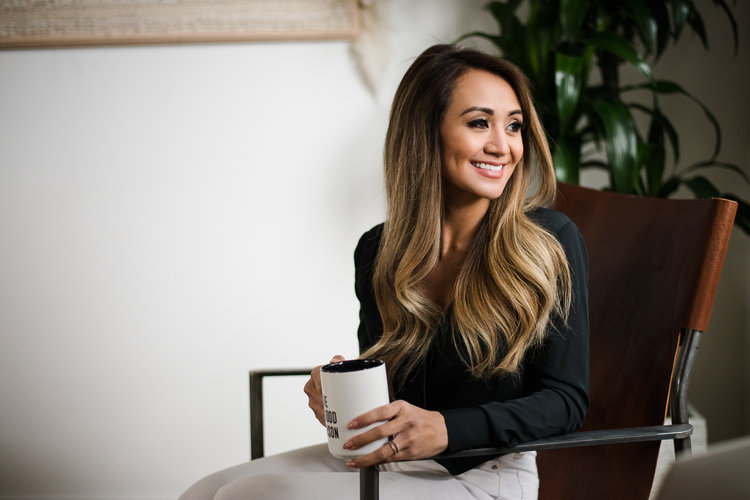 Bonus tip: Let your hair down!
In real life we see all angles and movement of your hairstyle. This isn't the case with photos. You are only catching one angle at a time and if your hair is in a ponytail, you may look like you don't have hair. An exception to this rule would be a topknot or messy bun if it is up high enough to see from the front.
There you go! Five tips to help answer the question, "What should I wear to a brand photoshoot?" Please leave a comment if you have questions or extra tips that would be helpful. If you'd like to see more examples of what our brand photography looks like in more instances check out our portfolio page.