3 simple tips for finding the perfect location for your senior pictures.
"Something with pink in the background?" she said about a photo she'd seen on my website. I knew exactly what she meant because the Paint Mines are one of my favorite places to shoot in the world.
With the first click of my shutter, we knew we'd chosen the perfect location for Izzy's senior pictures.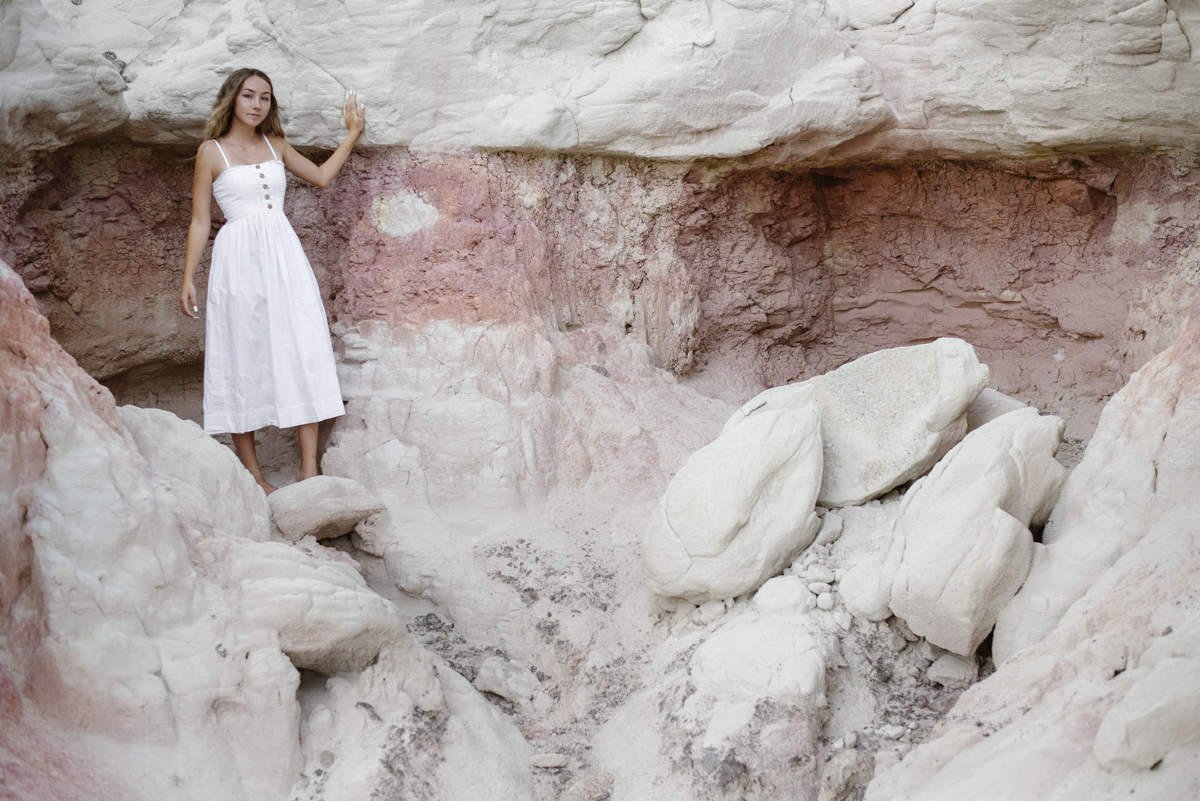 Few people are down for taking that drive from Denver in times of heavy traffic, but Izzy and her mom were all in. We could do an entire blog post on the super moms I get to work with when I do senior pictures. This shoot was no exception.
Izzy chose the perfect outfits to compliment the landscape and was so comfortable in front of the camera. Capturing gorgeous pictures of her was a breeze. Some of my favorite shots of her show off her fun laid back personality sans shoes.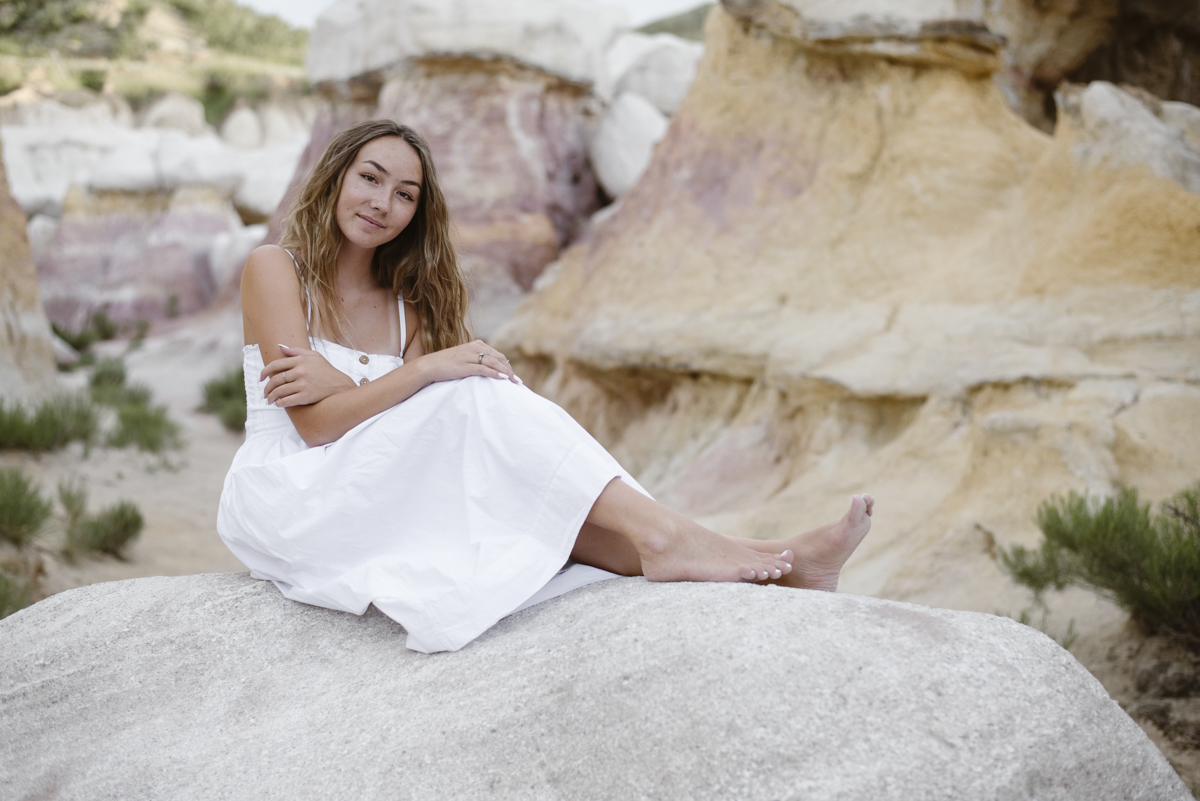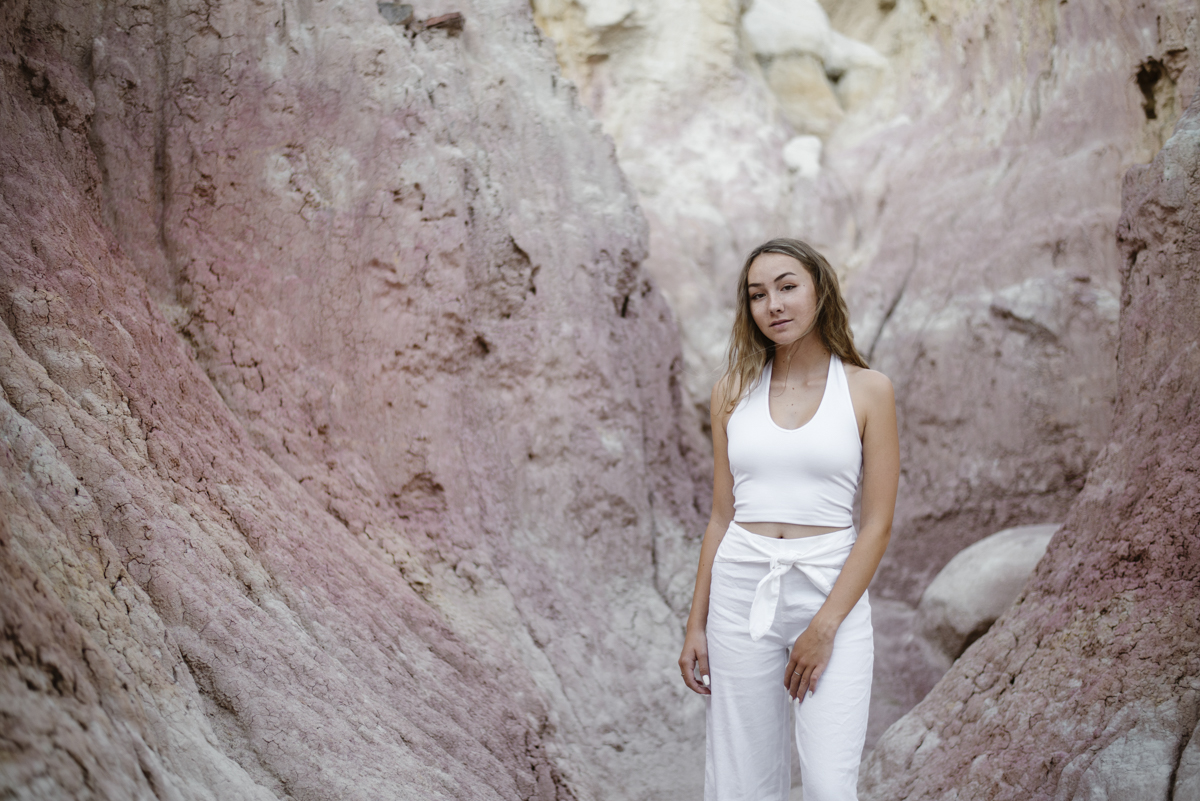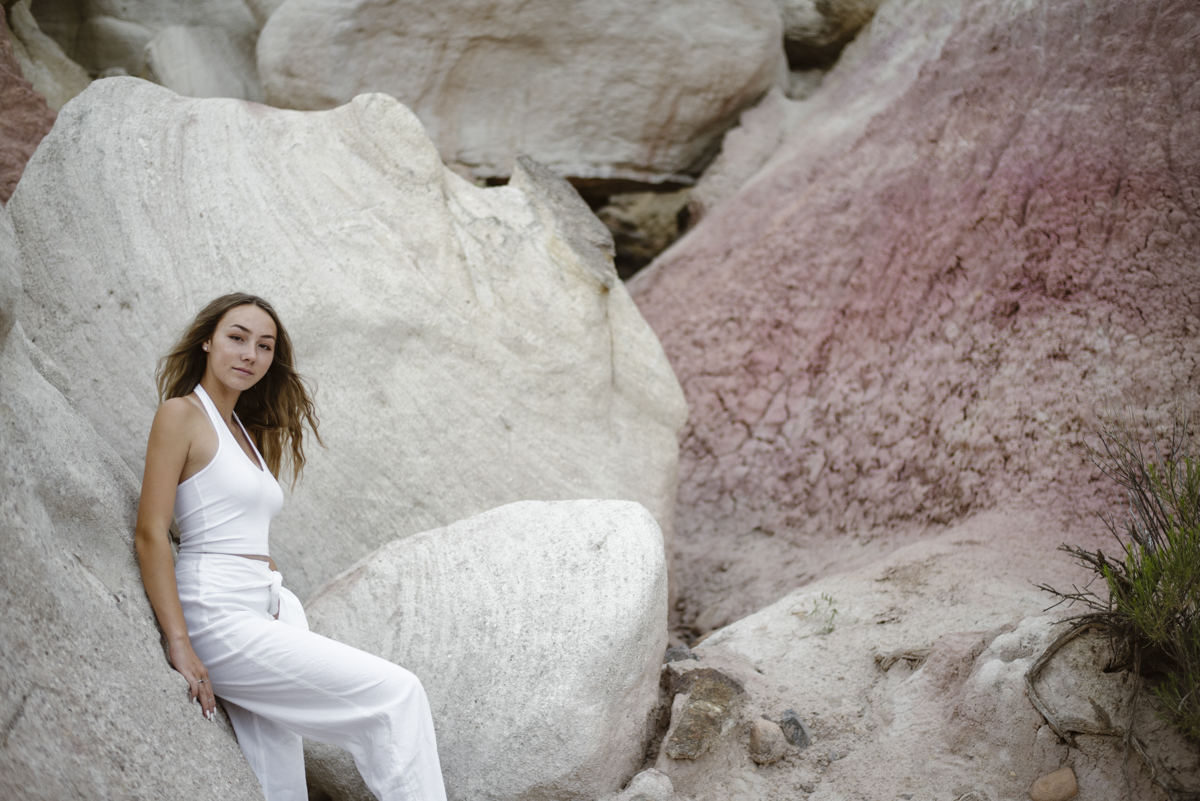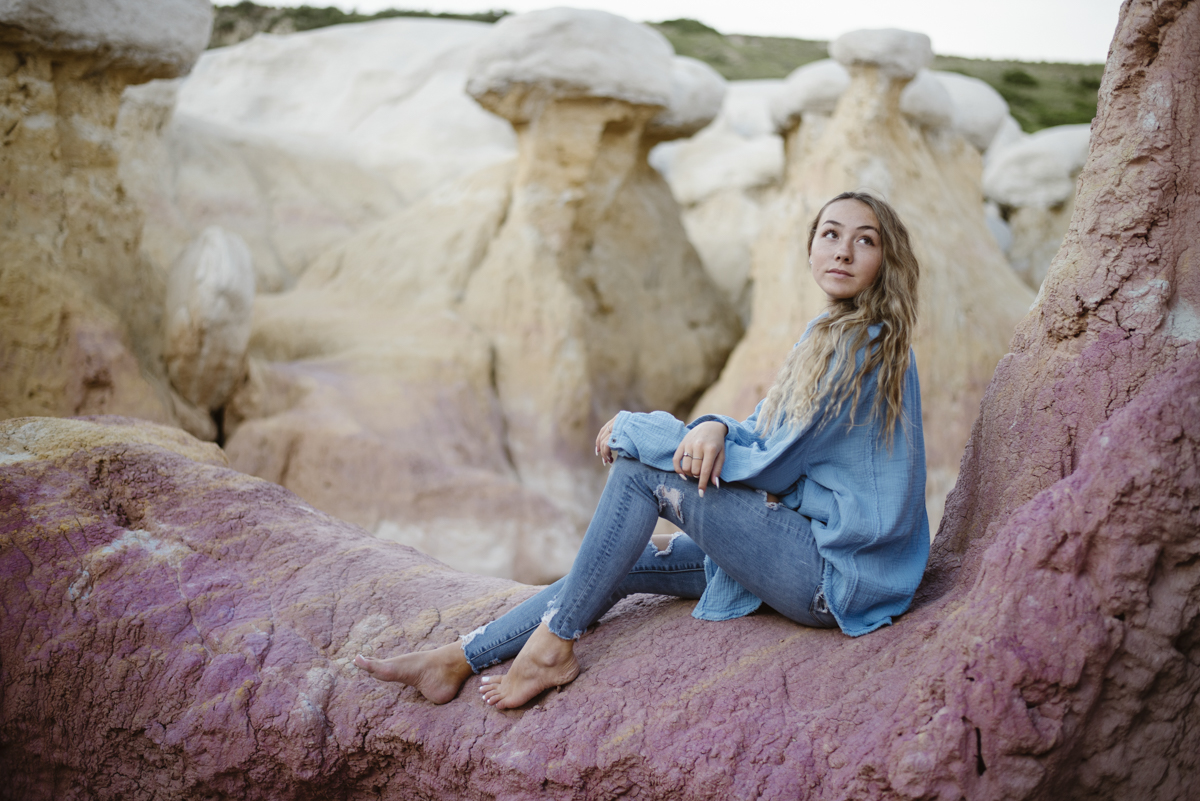 I had the hardest time choosing my favorite images from this shoot because they were all incredible. Don't even get me started on how lucky we were to end the shoot with a sunset shinning underneath the storm clouds in the distance.
I get asked this a lot so I thought I'd give some tips on finding the best location for your senior portrait photoshoot.
Here's how I do it:
1. Find out more about your senior. Before I schedule the shoot, or start looking for the location, I learn more about the unique individual that I'm working with. Izzy had an idea in mind when she called, but we still went through the process of a questionnaire to make sure this was the best spot. I asked questions about her personality, her style, and even her go-to outfit to get a better idea of the person I'm working with
Take the information you learn here and use it when looking at potential locations. Someone adventurous and spirited like Izzy is right at home in a place like the Paint Mines. A city girl more interested in an urban environment might prefer a cityscape over nature with a view.
Bonus: From there, I give recommendations on potential locations and the clothes that would look best in that location. Izzy took my recommendations and chose outfits that exceeded my expectations. Once you know where you're shooting, you know the colors that would be best, or the colors to avoid.
2. Do a visual search using Google Search and Instagram Location Tags to find locations near you. This sounds simple, and it is! In Google head on over to the "images" tab so that you can see spots that might work. Here are some ideas to help you search in google and
" ________ (your town) photoshoot locations"
"___________(your town) photoshoot"
The image search will actually give you to the option to see words related to that search and clicking on one of the recommendations to narrow in: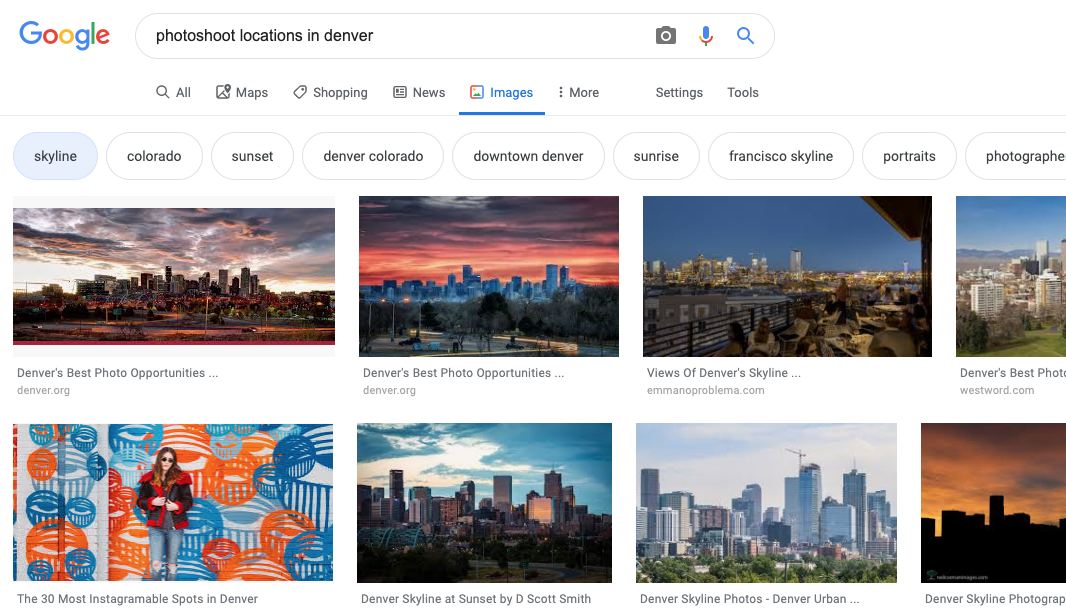 Get even more specific by adding words like:
Beach
Mountains
Unique
Forest
Creative
Studio
Nature
Urban
Landmarks
Iconic
Colorful
Outdoor
City
Graffiti
Instagram is another great way to visually search for the perfect location for your senior portrait photoshoot. Here are the steps to finding professional photos in locations near you.
Do a hashtag search for using these two hashtags:
#___________(your town/your state)photographer.
For me this ends of up being either #denverphotographer or #coloradophotographer.
Once you put this in, you'll see tons of images from photographers in your area. Scroll down until you land on one you like. Most of these have the location of the photoshoot listed at the top. If it's a specific location, click on it to see more photos from this same space and decide if it fits your vision. While getting screenshots for this, I found two new locations to add to my list.
3. Keep an ongoing list with addresses. This one applies more to photographers who regularly need locations. Keeping an ongoing list you can access anytime, makes it easier to remember locations when the perfect client comes along.
I know you see spots that you love all the time, and you may think you'll remember it them. But if you're anything like me, you've seen a hundred new spots this year that you want to remember. That's why I keep a running list for senior portraits and for personal branding clients. I use Google Docs because I can easily access this file from my computer and phone. If you want to keep something on the notes in your phone, remember it.
**Bonus technique** when you've stumbled upon something in person is to take a photo of the location, and add the photo to an album titled "photoshoot locations" in your phone. Then when you need a spot, you can click on the photo to access the map of where that location is.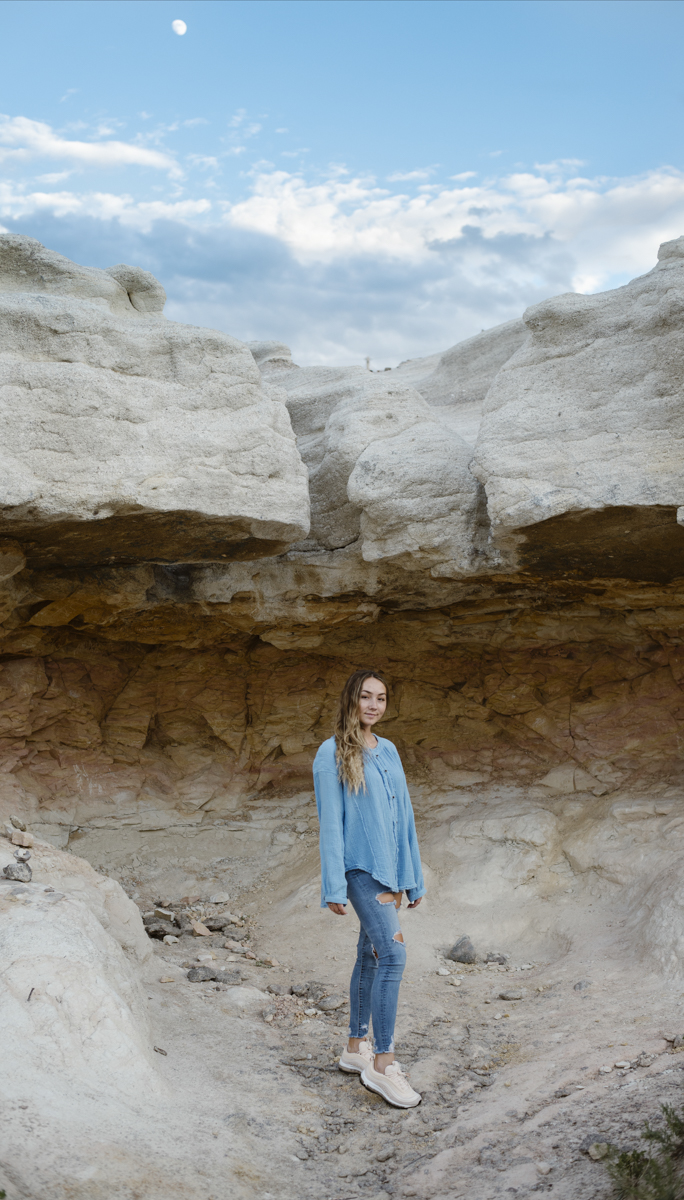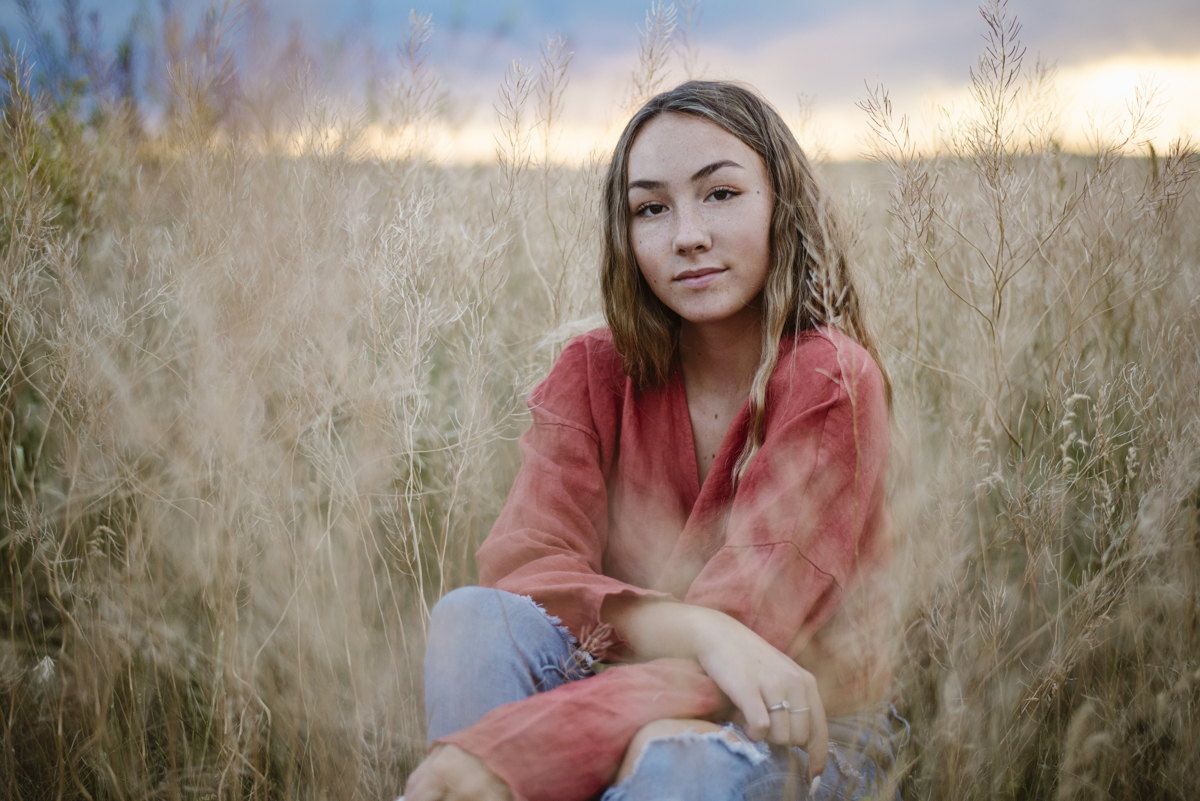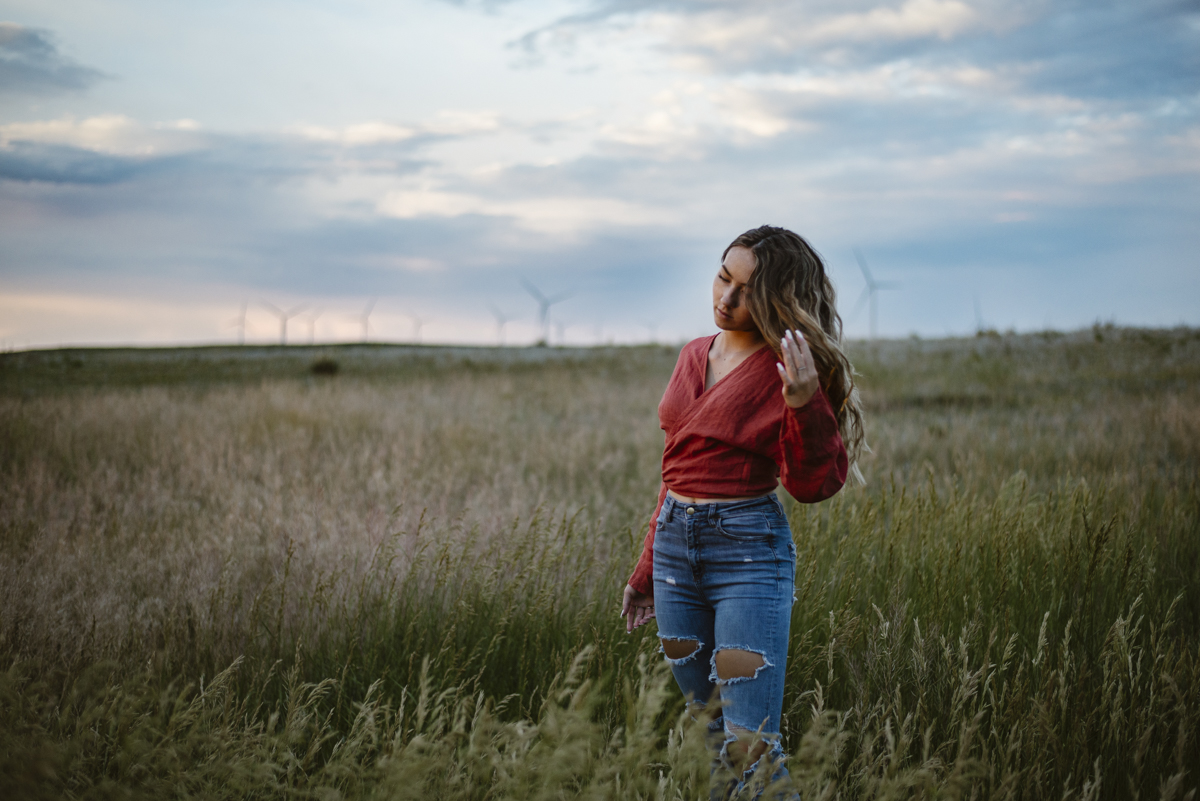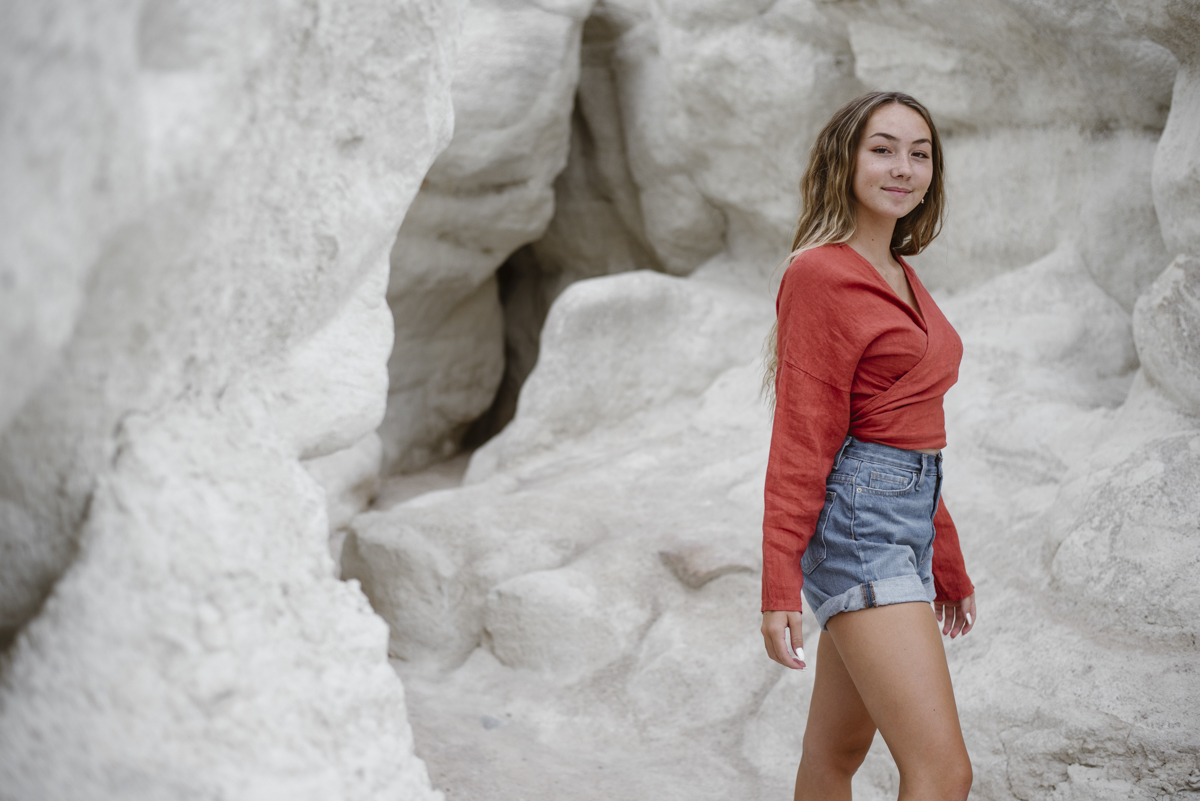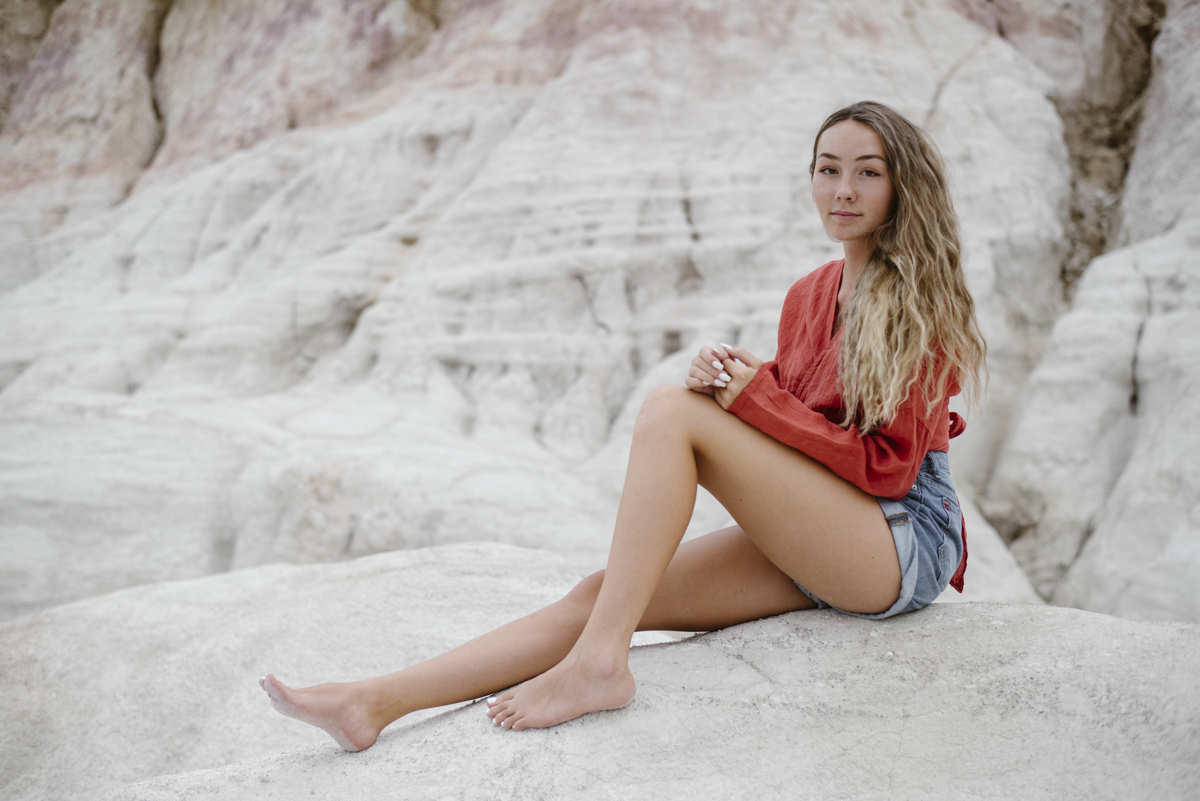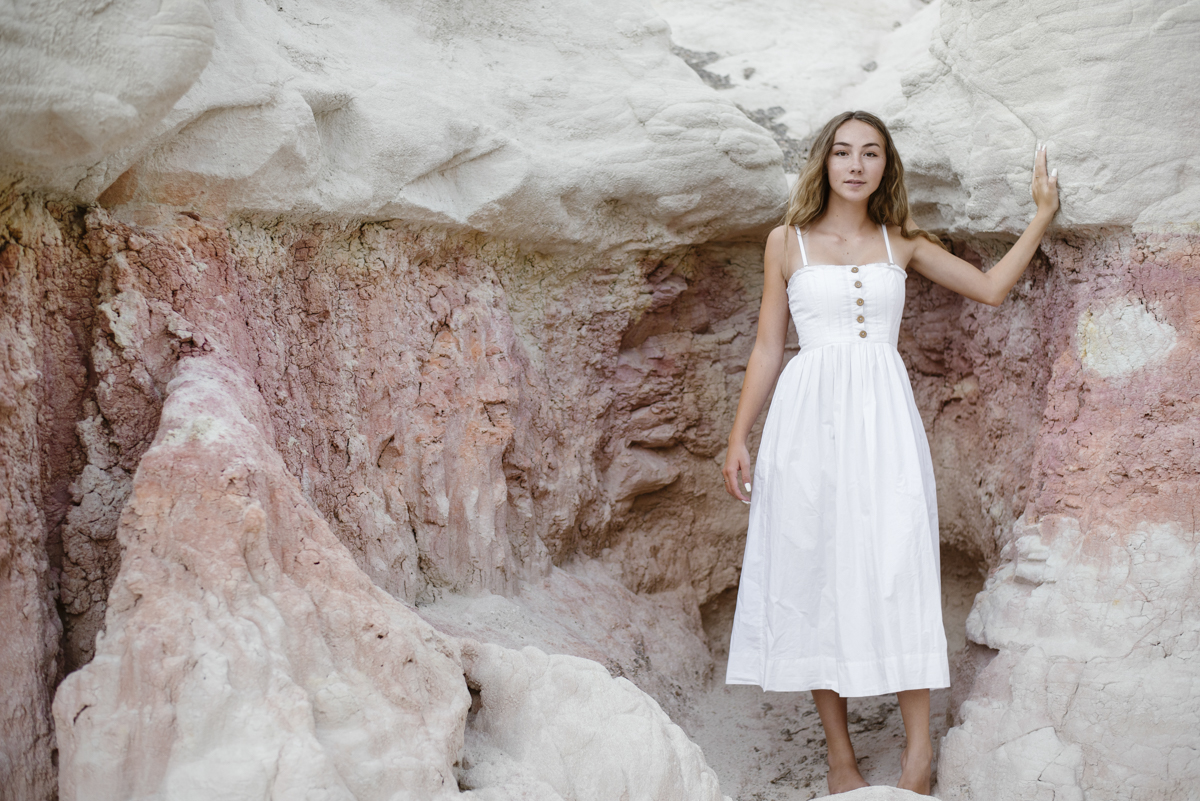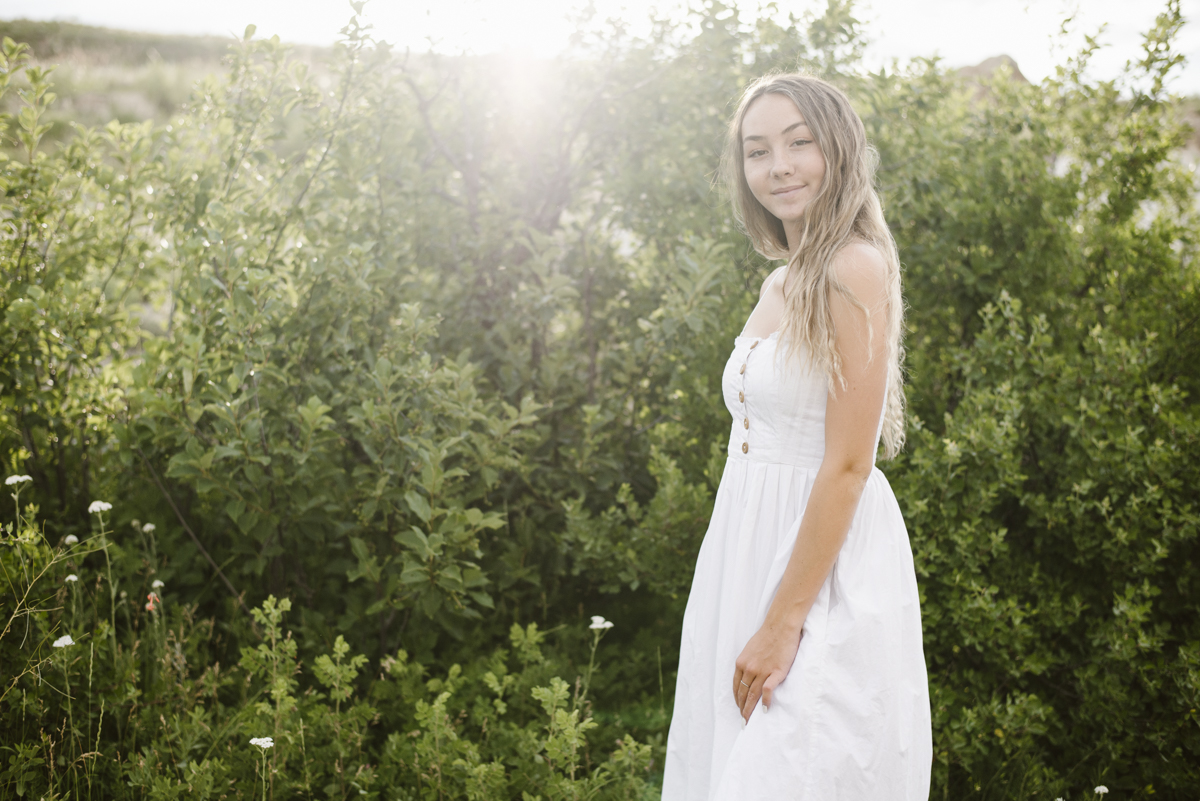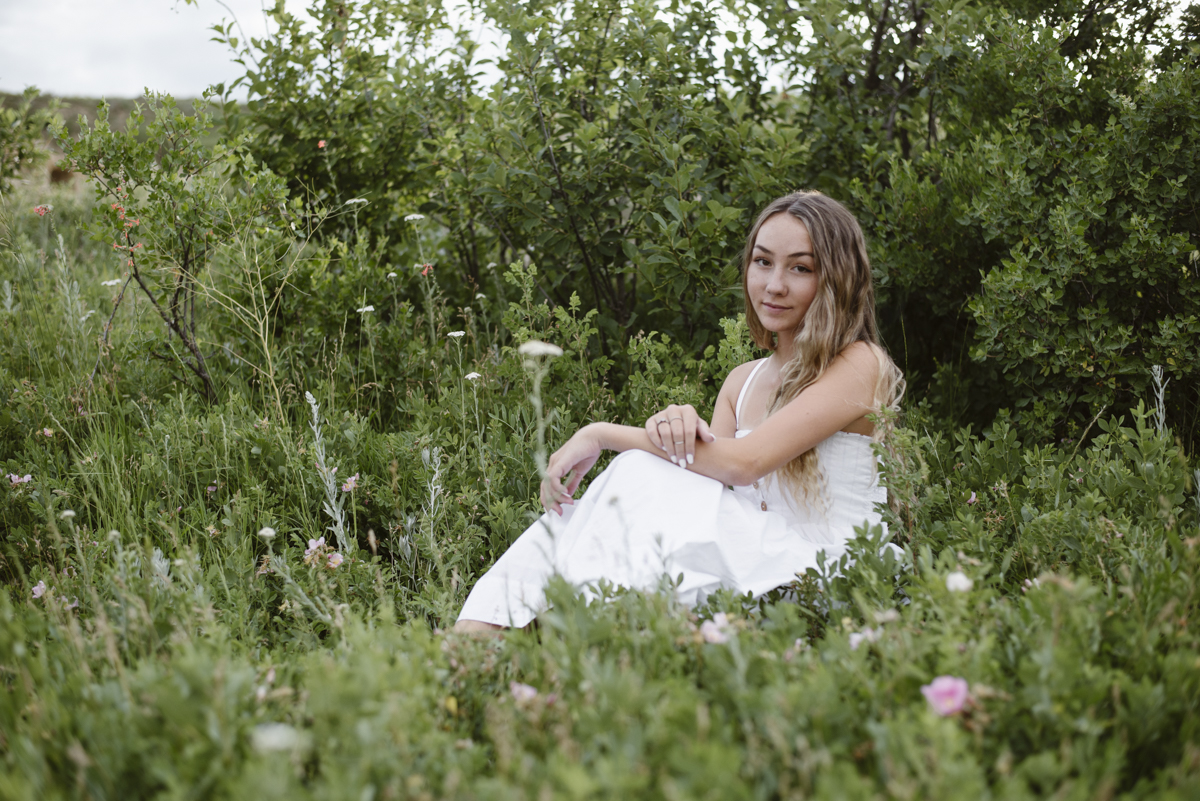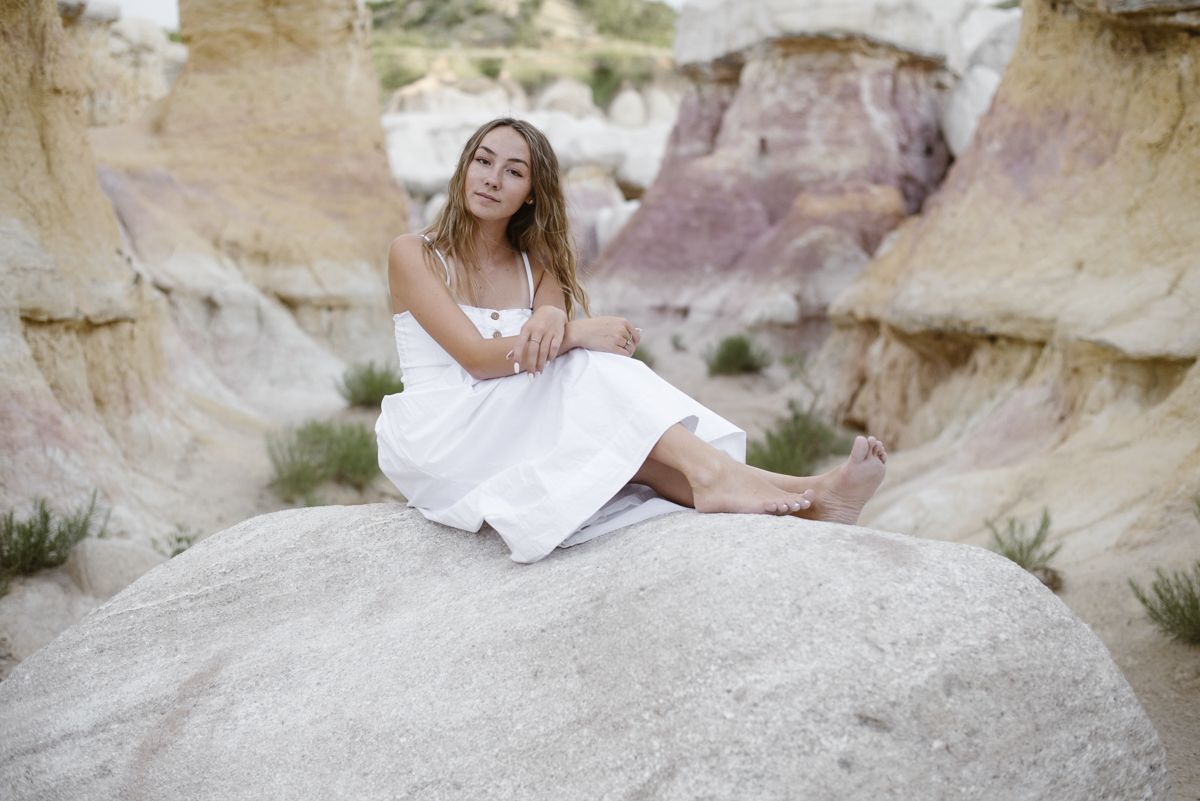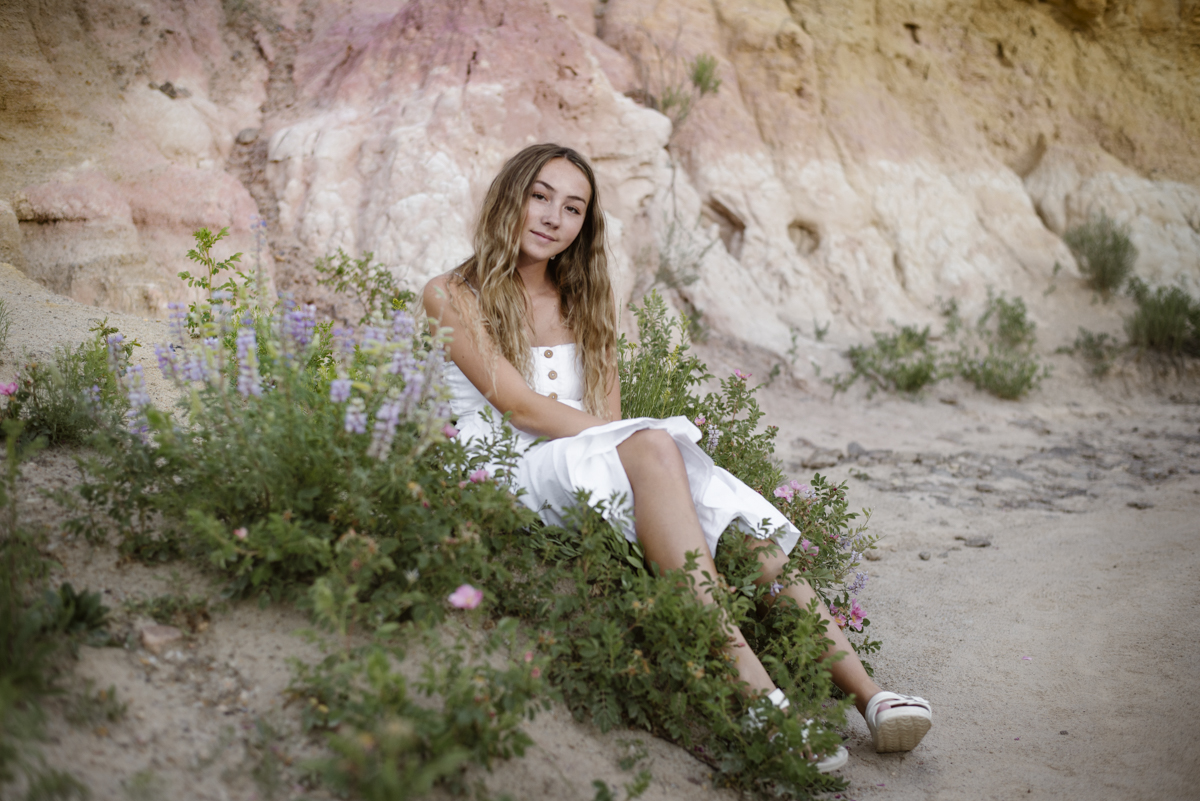 That's it! Those are my tops three tips for finding the perfect location for your senior portrait photoshoot. Izzy is the perfect example of this all coming together beautifully. If I hadn't done my research in advance, I never would have found the Paint Mines. It's outside of Denver and in an area I would never drive through.
Let me know below if you have any favorite locations, or ways of finding them.