Five step ultimate planning guide for your personal branding photoshoot
1. Know who your ideal client is.
The most important step in planning your personal branding photo shoot is getting clear on your ideal client. Imagine your ideal client in detail and give them a name, no really. My ideal client's name is Regina. My biggest piece of advice as you plan this shoot, is to keep your person in mind and ask yourself every step of the way how "Regina" would feel seeing this?
2. Where do you need pictures?
Each point of contact in your ideal clients journey with you is an opportunity for you to visually market. Ask yourself as you plan this step, Where will my ideal client interact with me? Is it Pinterest? Instagram, or through newsletter opt-ins? Finding out exactly where you need a photo will help you determine how that photo can work for your business.
If you 'd like to download my workbook, it has a checklist of places for you to market with images.
3. How do you want them to feel?
Now that you've checked off where you need to up your game, start thinking about how you want your client to think and feel when they get to your resource. If you downloaded the checklist, write down what you want them to think or feel in the "putting it all together" section.
Example 1:
When they get to my instagram, I want them to feel happy and excited. I want them to think that working with my brand would be a really fun experience.
Example 2:
When someone lands on my sales page, I want them to know that I am a top leader in my field with experience that will lead to them making a great investment.
4. Props, Wardrobe, and Location:
Easy enough so far, right? Here's how it ties in. In the next step, you'll be thinking about your locations, your wardrobe and your props in relation to how you said you wanted your client to feel in the previous step.
Wardrobe look at each image you've said you need and ask, what clothing could I wear to make my ideal client feel joy? What could I wear to look like a leader in my industry to my ideal client? An example would be choosing bright colors for the joyful picture, and choosing a blazer or blouse for the industry leader picture.

Locations look at the list and ask: Will this location fit with the feeling I am trying to create? A joyful feeling can be created just about anywhere, but a carnival or farmers market could push it over the top. Looking like an industry leader could is achieved in an office space or in front of a cityscape.

Props look at the list in the workbook and ask: What could I bring to make my client feel joy, or help them see that I'm fun to work with? This could be as simple as a glass of wine, or as amazing as a big box of colorful donuts. Looking like a leader in your industry could be as simple as crossing your arms and looking into the camera or sitting in front of your computer.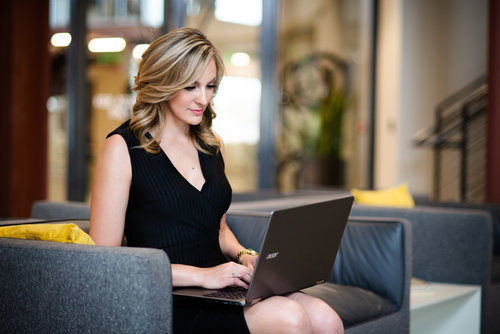 5. Find your personal branding photographer
The simple way to do this is through a google search. Type "personal branding photography" in your search bar. Once you find a photographer's style that resonates with your own look, reach out to them. Set up a call to tell them exactly what you need from this photoshoot. Communicating with your photographer is how you make sure the time you spend at your photoshoot is laser-focused on getting the images you'll actually use.
If you fall in love with a photographer's work, but their look is dark, moody and dramatic where yours is bright, colorful and clean, you'll need to move on. Don't worry! There are many photographers out there, and when you find the one that perfectly aligns with your business it's like magic. If you happen to love my style and personal branding photography, please don't hesitate to ask me for information. I'd love to find out if we'd be a great fit over a phone call! Contact me here to see if we'd be a great fit.
If you haven't downloaded your free workbook to help you plan the perfect personal brand photography session for your business, do it now!